Tom and Linda Mitchell Bursary Fund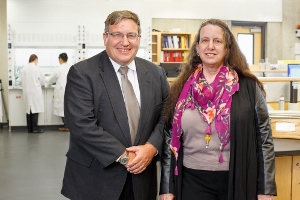 As graduates of a major university in the United States, Linda and Tom Mitchell understand the cost of higher education and would not have been able to complete their own engineering studies without financial assistance.
They called Durham Region home for more than a decade and watched the university grow in size and stature, enriching the lives of its students and adding to the culture and vibrancy of the community in many ways. In Tom's role as the Chief Nuclear Officer and Chief Executive Officer at Ontario Power Generation (OPG), a strong partner to the university since its inception, he experienced first-hand the supply of talented engineers and scientists graduating from Ontario Tech University. 
To celebrate Tom's retirement from OPG in 2015, the Linda and Tom Mitchell Bursary Fund was established. It provides annual assistance to a full-time undergraduate student in good academic standing with financial need who is interested in researching energy and environmental solutions in the faculties of Engineering and Applied Science and Energy Systems and Nuclear Science. 
To make a gift, please call 905-721-8668, ext. 5660 or email advancement@ontariotechu.ca.