Bob and Sallie Baun Varsity Scholarship
"When you dare to dream, you dare to connect to that part of yourself that says, 'Yes, I can achieve this goal and become a successful person along the way.' In the end, it's not only about achieving that milestone you set out for yourself, but becoming the person you were meant to be."
Bob Baun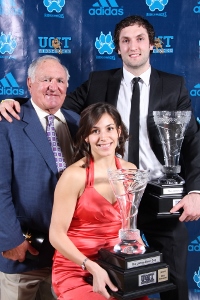 Fifty years ago Gordie Howe shot a rocket from the blue line that broke Bob "Boomer" Baun's leg when he blocked it. Baun was not about to miss that deciding playoff game so team physicians froze and taped his leg, and he played two shifts that third period.
Known for his crushing style of play, Baun delivered the game-winning goal. The Toronto Maple Leafs went on to win the coveted Stanley Cup that year.

These Varsity Scholarships, in Baun's name, reward students for high performance and dedication to both academic and athletic pursuits. Be a part of Baun's vision to assist students by supporting the $250,000 Bob Baun Varsity Scholarship Fund, a long-term investment that provides for perpetual yearly disbursements.
Four annual scholarships will be awarded: two to varsity women's team members and two to varsity men's team members.