Bob and Sallie Baun Varsity Scholarship
"When you dare to dream, you dare to connect to that part of yourself that says, 'Yes, I can achieve this goal and become a successful person along the way.' In the end, it's not only about achieving that milestone you set out for yourself, but becoming the person you were meant to be."
Bob Baun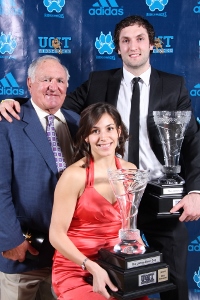 Fifty years ago Gordie Howe shot a rocket from the blue line that broke Bob "Boomer" Baun's leg when he blocked it. Baun was not about to miss that deciding playoff game so team physicians froze and taped his leg, and he played two shifts that third period.
Known for his crushing style of play, Baun delivered the game-winning goal. The Toronto Maple Leafs went on to win the coveted Stanley Cup that year - a triumph Bob shared with the Leafs four times during the 1960s.
Bob and his wife Sallie are pleased to recognize Ontario Tech students who exhibit the same work ethic. The Bob and Sallie Baun Varsity Scholarship currently provides four annual awards to deserving student-athletes, shared equally between our women's and men's teams.
Now, Bob and Sallie would like to see the endowment fund increase to $1 million to provide 16 Bob and Sallie Baun Varsity Scholarships - one for each of Ontario Tech's varsity teams.
In the spring of 2019, this work caught the attention of Bob's personal friend, Bill Yuill who wants to encourage others to join him in supporting our student-athletes. To do this, the Yuill Family Foundation is offering a offering a $250,000 matching fund to match all gifts to the Bob and Sallie Baun Varsity Scholarship.
Make your gift today and double the impact of your gift! To make a gift to the Bob and Sallie Baun Varsity Scholarship, please call 905-721-8668, ext. 5660 or email advancement@ontariotechu.ca.