Memorial and tribute gifts
Your tribute to someone makes a lasting impact when you honour their life with a gift to Ontario Tech University. You can make a special gift to give tribute to a personal friend or family member, or join others in paying tribute to an established fund.
For more information, contact advancement@uoit.ca or 905.721.8668 ext. 5660.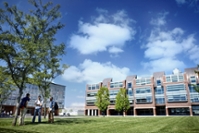 Your personal tribute
Celebrate the life of a loved one.
Create a green, living memorial that commemorates a special life or occasion.
Name a tree