Ontario Tech University is devoted to the enrichment of the overall student life experience by providing quality sport and recreation programming and leadership opportunities in the pursuit of athletic excellence. The student-athlete experience is our core business, which drives our commitment of building a sense of pride and tradition on campus that our student-athletes can be proud to be a part of.  When you contribute to the varsity program, you are helping develop the next generation of Ridgeback champions. One hundred per cent of  your gift enhances the student-athlete experience.  

On behalf of Ontario Tech Athletics, thank you.  Go Ridgebacks!

Scott Barker

Director of Athletics
Ways you can support our student-athletes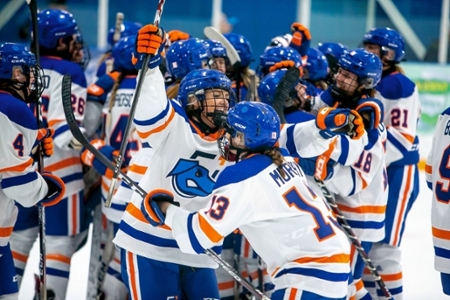 Adopt-a-Ridgeback
Be part of the team that will help ensure the future success of our student-athletes and athletic programs.  All 240 of our Ridgeback Athletes pay an annual fee of $250 to cover uniform and equipment costs. Consider supporting our Ridgebacks with a gift to the Adopt-a-Ridgeback fund. The annual goal for the fund is $60,000 which would cover every Ridgeback Athlete for the 2020-2021 season.  All funds received by September 2022 will be applied equally across all Ridgeback student-athletes.  
Support Ridgeback Teams
All our Ridgeback teams appreciate additional support directed to their team. These donations can be used to help teams with additional training sessions, or travel and activities releated to the team. Your support allows our talented student-athletes receive the best opportunities to pursue their sport and achieve their athletic and academic dreams. With this support, you are helping our athletics program grow as one of the premier programs in Canadian University athletics.
Donate now to support Ridgeback Teams
Scholarships and Bursaries
Student-athletes make numerous sacrifices over the course of a season in order to compete at the level necessary for intercollegiate athletics. They also are tremendously dedicated to their academics in order to remain eligible for competition.
As a result, most student-athletes suffer the financial strain, not being able to carry a part-time job during the season.
Did you know?
On average athletes spend 60 hours per week committed to school and sport:
Consider establishing a scholarship or bursary for an athlete. It is a great way to show support for the growth of our community as well as supporting our future leaders in the community.
To discuss creating a named award, please contact Alison Broadworth at alison.broadworth@ontariotechu.ca or 905.721.8668, ext. 6747.
---
Donations of any amount are welcome. Charitable receipts will be issused for donations of $10 or more.
Charitable business #85924 8049 RR0001