Pi Day of Giving Trivia Game - Monday, March 14 at 7 p.m.
Question: What do you get if you divide the circumference of a jack-o'-lantern by its diameter?
Answer: Pumpkin pi!
We have an irrational amount of fun planned to help celebrate our 5th annual Pi Day of Giving!
Mark your calendar for Monday, March 14, 2022 at 7 p.m., and plan to channel your inner Ken Jennings, test your knowledge and win some great prizes at our Pi Day of Giving Trivia Game, it will be a Kahoot!
We'll be serving up some general trivia, Pi trivia and will throw in some Ontario Tech questions for good measure!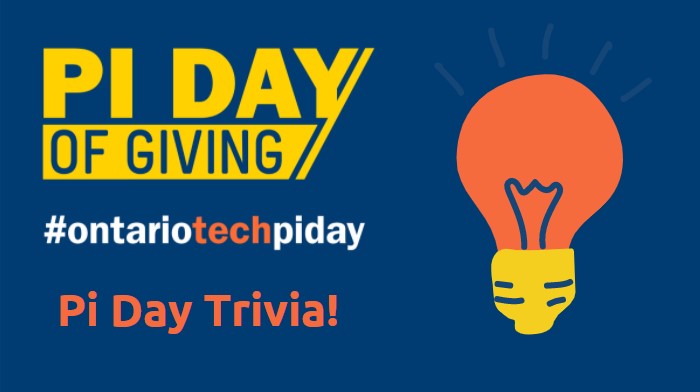 First prize will take home an Ontario Tech bundle including wireless ear buds, wireless charger, a phone card sleeve and a $50 Amazon Gift Card! 
Second prize will get you an "On the Go" with the Ridgebacks.
Third prize is a "Work from Home" bundle. 
We will be using Kahoot! for this event. Kahoot! is best used with two devices; one, like a computer, to view the questions through our event platform and a second device, like a cell phone, to submit your answers. If you only have access to a computer, you can still play! You can open a browser to submit your answers, you will just need to make sure you can still see the shared screen in the event platform.
No matter which way you slice it, you're not going to want to miss out on an afternoon of fun trivia!
This event is BYOP - Bring your own pie, pizza counts! :) 
Visit kahoot.com if you want to try out the platform prior to March 14!