Pi Day of Giving
Pi Day of Giving
Help us grow our circle. For us, Pi represents the endless possibilities for our students.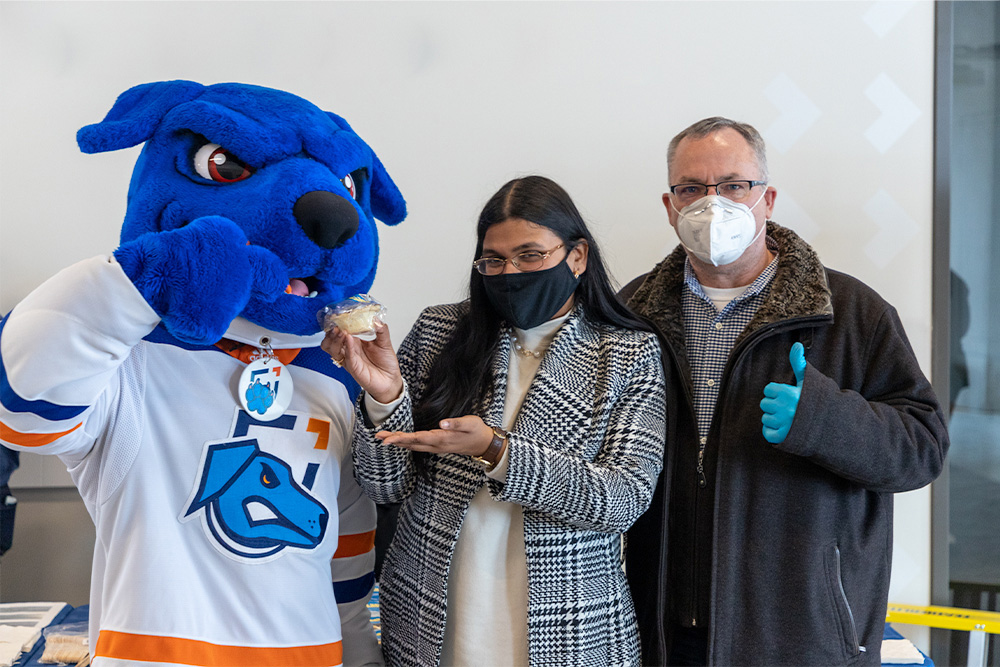 March 14, 2022, marked our fifth annual Pi Day of Giving: a community-wide online fundraising campaign to grow our circle of support for our students. We picked March 14 (3.14) for our university's day of giving because it is Pi Day (Pi ≈ 3.14): a significant number for Science, Technology, Engineering and Mathematics (STEM). It also has an infinite number of digits and is used to calculate the size of a circle.
This year, Ontario Tech alumni, faculty, staff, students and members of our community came together for our students raising more than $156,000. Donors gave to scholarships, bursaries, athletics and in support of the Student Relief Fund, which provides assistance to students in many different ways.
Thank you to those who helped celebrate Pi Day of Giving by participating in our events. The following is a snapshot of our success:
More than 400 mini pies were given out at Shawenjigewining Hall at our north Oshawa location and 61 Charles Street at our downtown Oshawa location.
Fourteen Ontario Tech research experts shared their knowledge and passion during our Pi Day Speaker Series with viewers joining from more than 10 countries around the world. All sessions are available on the Pi Day Speakers Series website.
Online Auction hosted by Ridgebacks raised more than $3,700 for the Adopt-a-Ridgeback Fund.
If you missed the opportunity to make a donation during Pi Day of Giving, we invite you to make a contribution anytime during the year at giving.ontariotechu.ca. 
Thank you so much for helping us grow our circle. Mark your calendars for next year's Pi Day of Giving – Wednesday, March 14, 2023!
Thank you to our 2022 Pi Day Sponsors