Nathan, Jacob and Jordan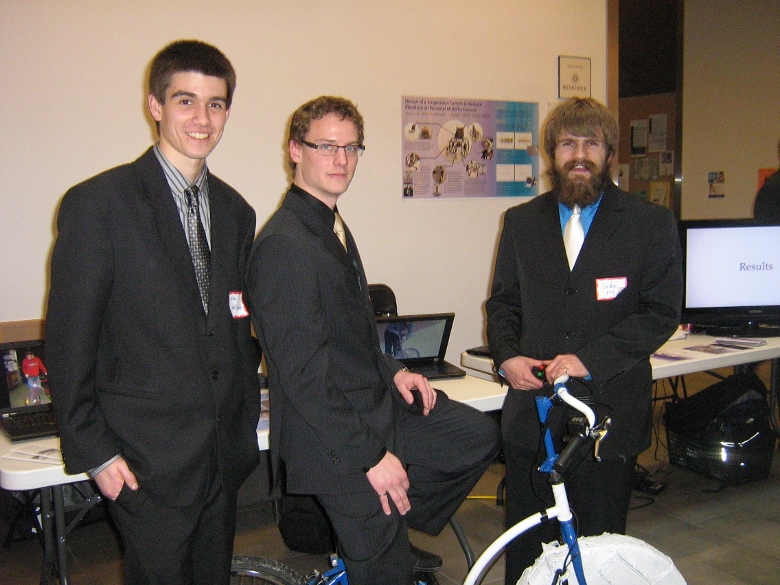 Nathan, Jacob and Jordan took advantage of the tremendous opportunity Ontario Tech University gave them to think like entrepreneurs. As Ontario Tech University Mechanical Engineering graduates, they designed a device that functions as a pedal-operated bicycle, with an electric power option to make travelling longer distances easier. The bicycle—a unique green machine—is very practical and folds up to make transport easy.
"Someone could, for example, ride three kilometres to the bus stop, fold it up, and take it on the bus, and then ride another two kilometres from the bus to their destination, fold it up and store it at work or school, and then do the same thing on the way back," explains Nathan. "This device provides a clean energy alternative to all those cars making the five-kilometre trip to work every day."
Their collaborative design won second place for Market Research and third place in the Ready for Production category at the 2013 Partners for the Advancement of Collaborative Engineering Education (PACE) Forum in Pasadena, California. The PACE competition involves seven teams representing 34 universities around the world.
PACE is a program linking industry with strategically selected academic institutions worldwide, including Ontario Tech University, with the goal of developing the automotive product lifecycle management team of the future. Through PACE, Engineering students develop practical skills in the core applications they will use in high-technology careers.
Nathan, Jacob and Jordan completed the design and development of a portable assisted mobility device as their Capstone Study Project in their final year. The Ontario Tech University Capstone provides students with opportunities to develop a thorough understanding of the technology, environment, markets and operations of real organizations. The unique teaching environment at Ontario Tech University is a perfect match for talented students, approaching learning through hands on innovation.
Nathan, Jacob and Jordan are just one team of students who applied their knowledge to transforming the way we think about transportation.
Nathan Groot Nibbelink, class of 2013
Bachelor of Engineering (BEng) – Manufacturing Engineering
Production Engineer, Electrical Contacts
Jacob Bineen, class of 2013
BEng – Automotive Engineering
Quality Engineer, Chrysler Group
Jordan McDonnell, class of 2013
BEng – Mechanical Engineering