Naheed Dosani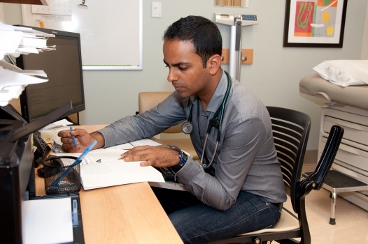 Naheed came to Ontario Tech University with talent, ambition and tremendous focus. He turned his natural ability as an Ontario Tech University student into a leadership role in major global causes, as he took on numerous humanitarian initiatives, raising awareness and funds for programs in Canada and around the world.
An exceptional student, Naheed received several scholarships. Then he paid it forward by donating a scholarship back to the university to share with others. The Dr. Naheed Dosani Entrance Scholarship is awarded annually to an Ontario Tech University student who demonstrates the impact of involvement and personal growth through humanitarian action.
Naheed is using his education to transform Canada's health-care system as a researcher, teacher, doctor and advocate. While doing a fellowship training program in palliative medicine at the University of Toronto, Naheed learned that early care can alleviate symptoms and improve mood and function for patients. It can also improve the lives of their caregivers. That's when he realized the need for early palliative care for the homeless.
"Many social service providers to the homeless have stated they appreciate the education and psychosocial support we provide, and family members who have reconnected with patients have been very grateful we took that step," says Naheed. "I feel in a very short time we've been able to affect the minds, bodies and souls of a very vulnerable population."
Naheed believes people across Canada care also about this issue. "The Palliative Education and Care for the Homeless (PEACH) program has the opportunity to serve as a hub for future initiatives focused on discussion, advocacy, education and research on this topic," he says.
Inspired to lead, Naheed is a part of a new generation of Canadians who are instigating change on many levels of government, community and in personal lives.
Naheed Dosani, class of 2008
Bachelor of Science – Biological and Biomedical Sciences
Palliative Care and Family Physician, William Osler Health System and St. Michael's Hospital
Assistant Clinical Professor, Department of family Medicine, Faculty of Health Sciences, McMaster University
Lead Physician, Division of Palliative Care, Brampton Civic Hospital
Palliative Care Physician, St. Michael's Hospital and Inner City Health Associates
Palliative Care Regional Medical Lead, Central West Community Care Access Centre