Faculty of Engineering and Applied Science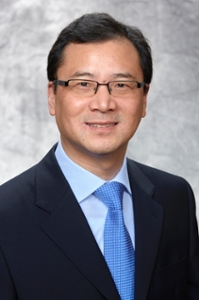 Dr. Dan Zhang
A professor at UOIT since 2004 Dr. Dan Zhang's research interests include robotics and mechatronics; advanced manufacturing technologies; advanced engineering design methodology; reconfigurable parallel kinematic machines research and development; high performance manufacturing systems; and design optimization.
In February 2009 he was awarded a $500,000 Tier 2 Canada Research Chair (CRC) in Robotics and Automation, to further develop his parallel robot design, which has the great potential to reinvent manufacturing capabilities, particularly in the automotive and aerospace sectors.
Thanks to additional funding from Ontario Centres of Excellence, Dr. Zhang has worked with industry partners on many research projects. These include an award of $17,496 in 2009 to partner with Matrex on a project entitled Research Emulsion Manufacturing and Process; an award of $17,496 in 2008 to work with ASI Group on Design and Fabrication of a Power Winch and Level Wind for ROV Tether Management and $27,000 for Design Control and Testing of a Novel Heavy-Duty Robot Arm for Medical application, a partnership with Amico Corporation.
Soon after joining UOIT, Dr. Zhang was awarded a research grant from Materials and Manufacturing Ontario (MMO) to investigate the current production development process at Canada Rubber Group (CBG), which is an MMO industry partner, and analyze CBG's current problem-solving practice as it undergoes a new development process.
The significant private and public funding received for Dr. Zhang's projects, and countless others on campus, plays an important role in offering UOIT students outstanding hands-on research opportunities and the university's globally recognized researchers with the means to continue to work on projects that are strongly aligned with federal and provincial research and innovation priorities.