Firefly Entrepreneurship Fund
Celebrating Entrepreneurship Week
Brilliant Catalyst Pitch Competition Showcases Student Innovation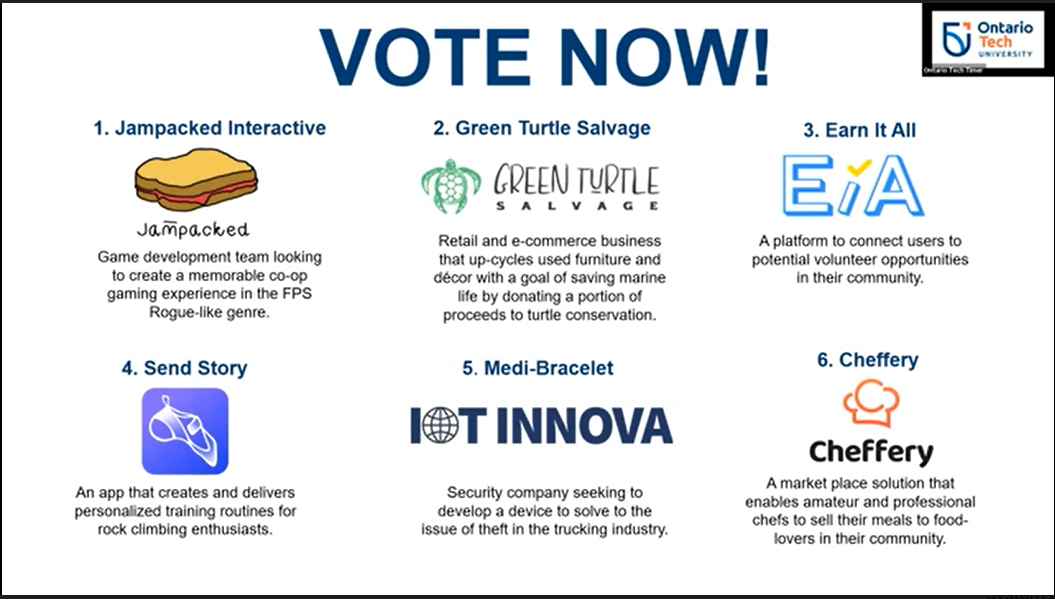 As a university driven by discovery and innovation, Entrepreneur Week (November 8-12) is the perfect time to celebrate Ontario Tech University's Brilliant Catalyst Program. The program inspires and empowers our innovative entrepreneurs preparing them for success in the real world. It offers intersection points for students, alumni and the community to explore their business ideas.

On October 7, six Ontario Tech student entrepreneur teams pitched their brilliant initiatives ideas to a virtual audience of more than 60 people all vying for the top cash prize. The teams shared their inventive products and business plans in the brief, 5-minute pitch, followed by questions from the attendees.

This year's Brilliant Pitch Competition winner is Medi-Bracelet, a security company developing a device to solve the issue of theft in the trucking industry.

Send Story earned second place with an app that creates and delivers personalized training routines for rock climbing enthusiasts. The third place team was Cheffrey, a marketplace solution that enables amateur and professional chefs to sell their meals to food-lovers in their community.

Congratulations to the winners and all team who participated, including Jampacked Interactive, Green Turtle Salvage and Earn it All. The university thanks this year's presenting sponsor Baker Tilly.

Since COVID 19, the Brilliant Catalyst programming saw an increase in participation and engagement. Ontario Tech students are adopting new technologies and rethinking the way they do things. Through Brilliant Catalyst, students have access to staff expertise, cross-faculty support, spaces that encourage collaboration and innovation, community partnerships and mentorship from volunteer leaders. Brilliant Catalyst programming provides knowledge, hands-on advice and real-world learning, enabling students to transform their ideas into successful ventures.
The incredible innovation and technology developed by our student teams reflects where the future is heading. Applied research, innovation, entrepreneurship is a priority for our university and our secret sauce is how we continue to ensure students remain the centre of this space.  The Brilliant Catalyst program has been the engine for galvanizing this entrepreneurship with our students. We look forward to see how our students continue to develop ideas and new technology to make our society better. Les Jacobs, Vice-President Research and Innovation, Ontario Tech University
This pitch competition was a great experience and we were honoured to be a part of it. We appreciated everyone that came to listen and provided their feedback. Winning the competition shows us that our idea is a great one and the support from the organization allows us to continue move toward our goals for Medi-Bracelet. Matthew Levins and Thomas Lato, Co-founders, Medi-Bracelet.
Invest in a Student Entrepreneur
Our students develop innovative concepts and prototypes that strengthen Canada's knowledge-based economy. They are our bright lights. 
With support from the Firefly Student Entrepreneurship Fund, our students can transform their bright ideas into marketable commodities that energize the marketplace. The fund provides awards of up to $5,000 to the top student teams participating in the Brilliant Entrepreneurship and Faculty of Business and Information Technology incubators each year.