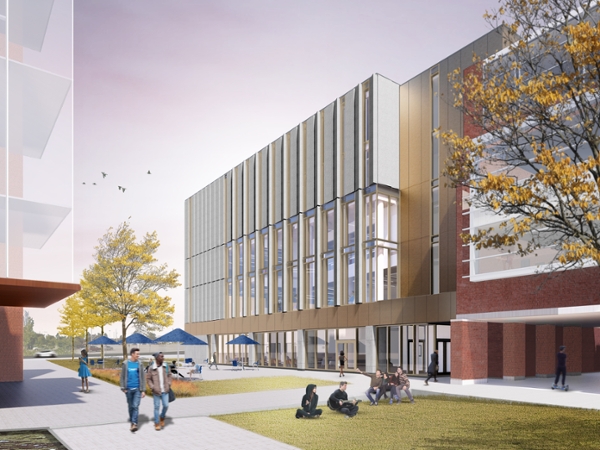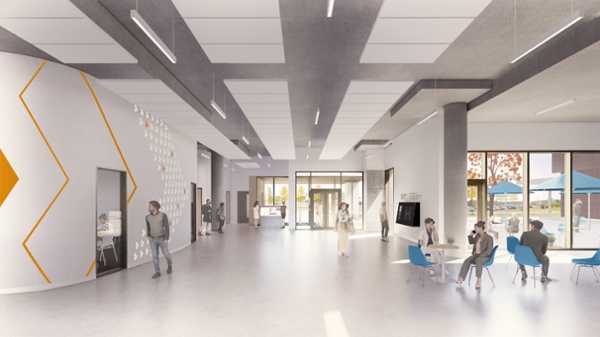 The new university centre will feature the Student Resource Hub where students can connect directly to modern services and resources in one location.
The centre's open concept, floor-to-ceiling windows, artistic décor and inclusive workspaces will foster innovation, networking and creativity. Exposed walls will showcase building mechanics, bringing the centre's functionality to life and sparking curiosity and learning beyond the classroom.
Our university Student Union will also operate out of the new building, providing expanded space and increased access for students.
The new centre will bring the Faculty of Health learning Sciences into one space. As health care becomes increasingly complex, the industry demands graduates who can work seamlessly within interdisciplinary teams. This centralization is intended to create valuable and dynamic opportunities for undergraduate and graduate students to engage in enriched learning and mentorship.
A high-tech simulation lab will provide access to advanced 3D solutions and augmented and virtual reality, significantly enhancing simulated and experiential learning. Students will practice their skills on mannequins that talk, breathe, make audible sounds and have a pulse, allowing almost any health-care scenario to be replicated using the latest hospital equipment.