E.P. Taylor Legacy Society
A unique group of people want their legacy to be built into the very fabric of the university. Confident in our students and our programs, they have developed planned gifts that will make an extraordinary difference in the lives of future generations.
They form the E.P. Taylor Legacy Society, named in honour of legendary Canadian entrepreneur, innovator and thoroughbred horse breeder Edward Plunket (E.P.) Taylor, upon whose legacy our university was built.
We remember Blanche Mothersill for her passion and belief in Ontario Tech.
Ontario Tech University remembers longtime supporter, Blanche Mothersill, former President of Gen-Auto Shippers in Oshawa and member of the university's EP Taylor Legacy Society who passed away on August 28, 2020.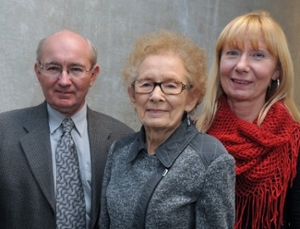 The philanthropic support of Blanche and her family throughout the past 15 years increased research capacity with vital support for the capital costs of the Mechanical Engineering Research Labs and the Software Informatics Research Centre. These gifts established the Mothersill Family Energy Research and Thermo Fluids Laboratory and the Internet of Things (IoT) Research Lab.
A lifetime resident of Oshawa, Blanche was a strong believer in higher education who had fond memories of riding horses near the university's north location. In 2017, she visited Windfields Farm property and learned of the university's future development plans.
"She was very proud to be associated with the E.P. Taylor Legacy Society", commented her son, Michael Mothersill, "It fulfilled her commitment to higher education while celebrating the love and memories of her childhood days at Windfields Farm". As an active member of the automotive business sector in Durham, Blanche knew the university's unique automotive engineering program would foster the success of Ontario Tech, the community and the Region.
- Mike Mothersill, Son of Blanche Mothersill