Ridgeback Athletics
Ontario Tech University is devoted to the enrichment of the overall student life experience by providing quality sport and recreation programming and leadership opportunities in the pursuit of athletic excellence. The student-athlete experience is our core business, which drives our commitment of building a sense of pride and tradition on campus that our student-athletes can be proud to be a part of.
When you contribute to the varsity program, you are helping develop the next generation of Ridgeback champions. One hundred per cent of your gift enhances the student-athlete experience.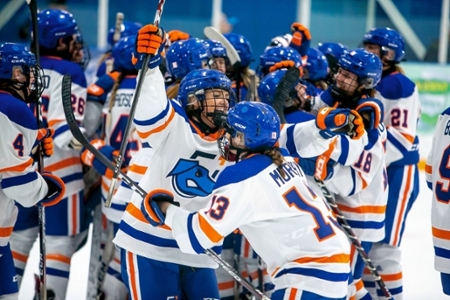 Be part of the team that will help ensure the future success of our student-athletes and athletic programs. Consider supporting our Ridgebacks with a gift to the Adopt-a-Ridgeback fund. The annual goal for the fund is $60,000 which would financially support every Ridgeback Athlete for the season.  All funds received by September of each year will be applied equally across all Ridgeback student-athletes. 
Your continued support allows our talented student-athletes receive the best opportunities to pursue their sport and achieve their athletic and academic dreams. Our teams rely on this funding for their programs to grow and thrive.
On behalf of Ontario Tech Athletics, thank you. 
Scott Barker
Director of Athletics