The Joyce Foundation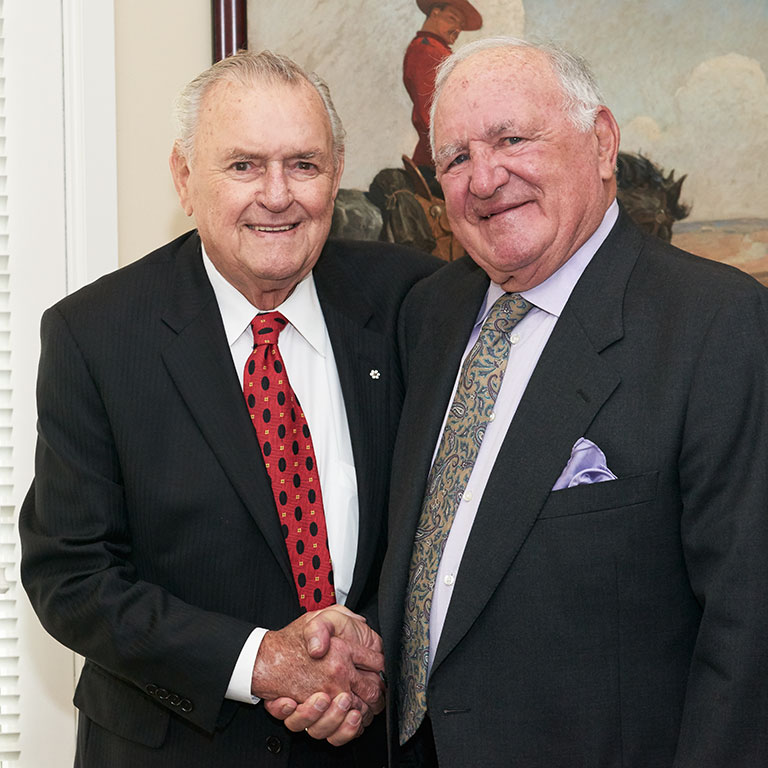 Motivation
Business legend Ron Joyce and hockey legend Bob Baun share a friendship that goes back more than 50 years – along with a desire to help young people achieve their dreams.
Ron, co-founder of Tim Hortons, established the Joyce Foundation with a vision of building a legacy for the future by empowering young Canadians to develop into confident adults who will make a positive contribution to society. Bob, a former Toronto Maple Leaf, established the Bob Baun Varsity Scholarship Endowment to support students for dedication to academic and athletic pursuits.
The Joyce Foundation has made a $100,000 donation to this endowment fund to commemorate the 50th anniversary of Bob's historic overtime goal for the Toronto Maple Leafs in the sixth game of the 1964 Stanley Cup final. Every year this gift will make it possible for UOIT students to pursue their dreams.
Dreams are something both Ron and Bob know a lot about.
It wasn't long after Bob's career-making night on April 23, 1964 that Ron invested in the first Tim Hortons donut shop in Hamilton, Ontario. He grew the business into one of the world's most successful food service chains. Ron got to know Bob through Tim Horton, who was Bob's good friend and business colleague. At one time Bob operated three Tim Hortons franchises, one of which had the highest volume in the chain. When Tim Horton died in 1974, Ron started the Tim Hortons Children Foundation. According to Ron, Bob was a great supporter of this charitable organization.
Today, Ron, the esteemed philanthropist, is teaming up with Bob, his long-time chum, to help young people dare to dream. The Joyce Foundation's gift  to the Bob Baun Varsity Scholarship Endowment provides for perpetual yearly disbursements. Every year two women and two men from our varsity sports teams will be awarded scholarships. The aim: motivate high-performing students to strive for all they dream of.
"Education opens doors to opportunities and should be accessible and affordable to all young people. Our foundation wants to help students with financial need have a dream: the dream of being able to attain a university education."
- Ronald V. Joyce
Co-Founder, Tim Hortons
Founder, The Joyce Foundation