Giving Tuesday
We've all heard of Black Friday and Cyber Monday – these are two days for getting deals but let's talk about the one day for giving thanks. November 29, 2022, is Giving Tuesday – a global day of giving that has grown into a movement uniting people around the world. A day when giving to a cause you care about can inspire millions of others to do the same.
---
This Giving Tuesday, November 29, help Ontario Tech Students in Need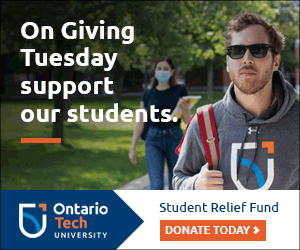 With the holidays around the corner and Giving Tuesday taking place on November 29, you can give a gift that helps Ontario Tech students who have urgent financial needs.
With so many of our students still feeling the impacts of the COVID-19 pandemic, we hope you will consider joining Giving Tuesday by make a gift to our Student Relief Fund. All funds raised go directly to help our students who are struggling to cover the costs of housing, food, tuition, and mental health services.
Every single gift will be matched by the university, doubling the impact of your contribution.  Consider making a gift in honor of a loved one, it is a wonderful way to show you care while helping to support a student who is experiencing need. Every bit helps and we will send a note to let the honoree know about your gift.
If you don't want to wait until Giving Tuesday, you can give online right now. Ontario Tech employees can take advantage of our payroll deduction.
We know there are so many great causes to support on Giving Tuesday and hope the students of Ontario Tech make your list!